Vaibhavi Upadhyay mainly was known for her work in Sarabhai Vs Sarabhai. On May 23, 2023, the entertainment industry mourned the tragic loss of a talented and vibrant actor, Vaibhavi Upadhyay. Known for her remarkable performance in the hit television serial "Sarabhai vs Sarabhai: Take 2," Vaibhavi met with an unfortunate road accident in Himachal Pradesh, resulting in a fatal head injury. As we pay tribute to her memory, let us delve deeper into the life of Vaibhavi Upadhyay and the legacy she leaves behind.
Table of Contents
Police Report: Vaibhavi Upadhyay Case
According to SP Kullu Sakshi Verma, who provided details to the news agency PTI, Vaibhavi's attempt to exit the vehicle led to her fatal injury. Tragically, the young actor's life was cut short due to the severity of her head injury. The last rites for Vaibhavi Upadhyay, who was in her 30s, will be conducted in Mumbai on Wednesday, offering a final farewell to a remarkable talent.
Fond Remembrances
The news of Vaibhavi's untimely demise sent shockwaves throughout the entertainment industry. J.D. Majethia, the producer of "Sarabhai vs Sarabhai," expressed his grief through an Instagram Story, emphasizing the unpredictable nature of life. Colleagues and cast members also took to social media to pay tribute to the late actor, sharing heartfelt messages and fond memories of their time together. Satish Shah, Deven Bhojani, Rupali Ganguly, and Sumeet Raghavan joined in remembering Vaibhavi's talent, warmth, and vibrant spirit.
Vaibhavi's Journey in the Entertainment World:
Vaibhavi Upadhyay's notable role as Jasmine Mawani in "Sarabhai vs Sarabhai" endeared her to audiences. Her character's hilarious Gujarati-to-English translations and unwavering spirit captured the viewers' hearts. She fearlessly stood up to the elite Maya Sarabhai, played by Ratna Pathak Shah, leaving a lasting impression. Vaibhavi's talent extended beyond this iconic role, as she contributed to projects such as "CityLights," "Please Find Attached," "Kya Qusoor Hai Amala Ka," and "Sanrachna." She also appeared in popular shows like "CID" and "Adaalat." Her notable work in the web series "Zero KMS" and her involvement in the film "Chhapaak" alongside Deepika Padukone showcased her versatility as an actor.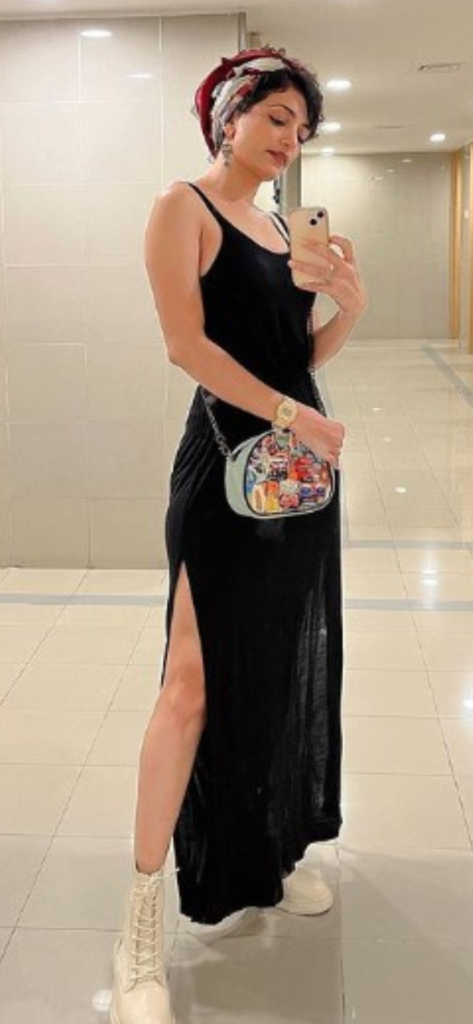 Gone too soon
Vaibhavi Upadhyay's untimely departure has left a void in the entertainment industry, robbing us of a talented and vibrant soul. Her memorable portrayal of Jasmine in "Sarabhai vs Sarabhai" and her diverse work showcased her versatility and acting prowess. Vaibhavi's ability to captivate audiences with her charm, wit, and fearless performances will forever be etched in our hearts. As we bid farewell to this exceptional talent, let us remember Vaibhavi Upadhyay for the joy and laughter she brought into our lives. May her soul find eternal peace, and may her legacy continue to inspire aspiring actors and entertain audiences for years to come.
Videos of Vaibhavi
Here are some of the Instagram Stories from Vaibhavi's account that she shared on her account. The Images in this post are taken from her account and other online blogs.
Questions
Who Was Vaibhavi Upadhyay?
Born on July 28, 1990, in Gujarat, Vaibhavi Upadhyay was a gifted actor who captured hearts with her on-screen presence. Alongside her passion for acting, she cherished her bond with her sister, Jinal Thaker, and brother, Ankit Upadhyaya. Furthermore, she had found love and was engaged to Jay Suresh Gandi, adding a layer of happiness to her life.
How did Vaibhavi Upadhyay die?
The fateful accident occurred when Vaibhavi's car, a Fortuner, veered off the road and fell into a gorge. The incident unfolded as they were navigating a treacherous curve. Regrettably, Vaibhavi suffered a fatal head injury while attempting to escape through the window, while her fiancé emerged from the incident unharmed