Reliance Industries Ltd (RIL), one of India's largest conglomerates, experienced a significant surge in its share price as the company made a groundbreaking announcement regarding the demerger of Jio Financial Services. This strategic move aims to unlock substantial value for RIL's shareholders and has garnered strong buying interest in the Indian stock market. The news of the demerger, coupled with impressive market performance, propelled Reliance's share price to new heights.
With the demerger record date and scheme details now revealed, investors eagerly await the anticipated listing of Jio Financial Services, expected to occur in the coming months. This article delves into the latest developments surrounding the demerger. It provides insights into analysts' predictions for Jio Financial Services' share price, thus shedding light on the future prospects of this transformative move by Reliance Industries.
Table of Contents
Reliance Industries Ltd's Share Price Hits New High on Jio Financial Services Demerger Announcement
In an exciting turn of events, Reliance Industries Ltd (RIL) witnessed a surge in its share price as the company announced the demerger of Jio Financial Services, unlocking significant value for its shareholders. The Indian stock market experienced a strong buying interest among bulls on Monday morning, leading to positive market sentiment.
| Metric | Value |
| --- | --- |
| Open | 2,688.90 |
| High | 2,756.00 |
| Low | 2,675.00 |
| Market Cap | 18.49 LCr |
| P/E Ratio | 27.74 |
| Div Yield | 0.29% |
| 52-wk High | 2,756.00 |
| 52-wk Low | 2,180.00 |
RIL Share Price
Note: LCr denotes lakh crore. To know more such NEWS.
Record Date Fixed for Jio Financial Services Demerger
Reliance Industries took a significant step towards the demerger process by declaring the Jio Financial Services demerger record date. The company stated that July 20, 2023, has been fixed as the Record Date for determining the equity shareholders entitled to receive the Resulting Company New Equity Shares. This decision comes after the Hon'ble National Company Law Tribunal, Mumbai Bench, sanctioned the Scheme as per Reliance's previous letter dated July 6, 2023.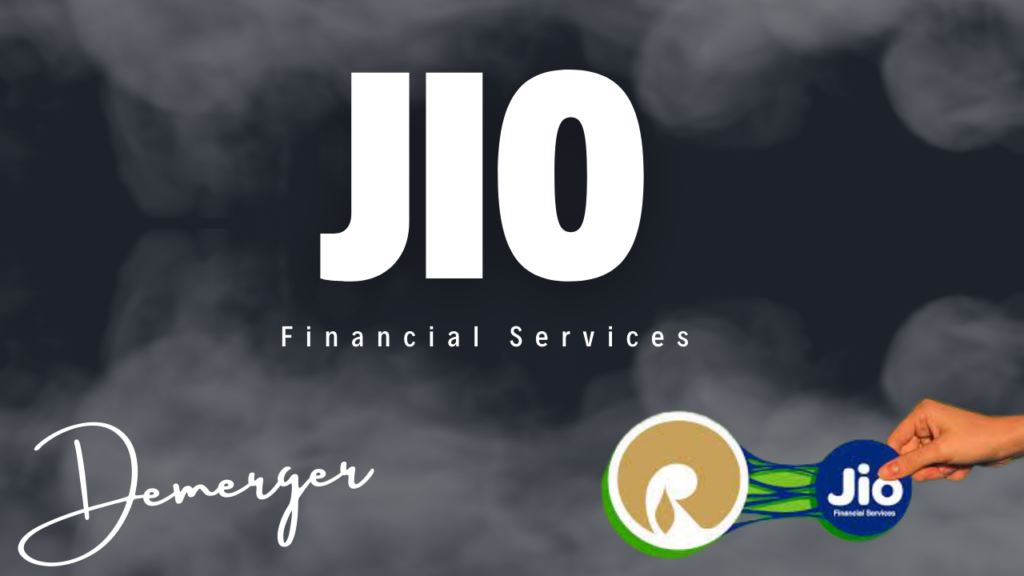 Scheme Details Revealed by Reliance Industries
Reliance Industries provided further details regarding the demerger scheme. The Effective Date of the Scheme is set as July 1, 2023. As per the provisions of the Scheme, Reliance Strategic Investments Limited (RSIL) will issue and allot one fully paid-up equity share of RSIL, with a face value of ₹10 (Rupees Ten) each, for every fully paid-up equity share of the Company. This allocation will be made to the shareholders whose names are recorded in the register of members and/or records of the depository as of the Record Date.
Analysts' Predictions for Jio Financial Services Share Price
While an official announcement regarding Jio Financial Services' share price is yet to be made, global brokerage firms have estimated the potential price range. Jefferies has projected the Jio Financial Services share price to be around ₹179, while JP Morgan estimates it to be approximately ₹189 per share. These estimates provide investors with an insight into the potential value of Jio Financial Services after the demerger.
Anticipated Listing Date for Jio Financial Services
Avinash Gorakshkar, Head of Research at Profitmart Securities, shared his insights on the expected listing date for Jio Financial Services. He stated that the listing is likely to take place by the end of August 2023, considering the time required after the demerger record date. Gorakshkar estimates that it would take around one to one and a half months for the listing process to be completed, giving investors a tentative timeframe to look forward to.
As Reliance Industries makes strides in unlocking value through the demerger of Jio Financial Services, shareholders and market participants eagerly await further developments. The strong buying interest and the surge in share price reflect the optimism surrounding this strategic move. Investors will continue to monitor the market for updates on Jio Financial Services' share price and the upcoming listing date.
Tags
Tags: Reliance Industries, RIL, Jio Financial Services, Share Price, Demerger, Indian Stock Market, Market Cap, Record Date, Equity Shareholders, Listing Date, Global Brokerages