Shaquille O'Neal is one of the most famous basketball players. The news of the spat in the relationship between Kobe Bryant and Shaq always kept him in the limelight. Both players played together for the Los Angeles Lakers. Shaq played along with Kobe to win 3 NBA championship titles for Los Angeles Lakers (2000, 2001, 2002). Shaq was born on the 6th of March 1972 (age 49 years), Newark, New Jersey, United States. Shaq's height is 2.16 meters.
He was briefly married to Shaunie O'Neal, he also has children from his other girlfriend. Now he is a bachelor. The only family he has is his children as you can see in the image below. Some of the blogs, news portals suggest he is trying tinder and being open to the change. Therefore active scouting is a regular practice nowadays. Many people think he is half a foot taller than 7. But going close one can find him approximately 7 foot 1 inch tall.
Love Life
He loves laughter and you can always find his humour on the tip of his tongue. If you happen to ask him what he loves the instant reply would come – "I love almost everything". But children tops his list of lovers. His child got a tattoo of his dad for himself. Since he is bachelor girls are always on the list. Besides this, he loves his business, talk shows, restaurants, commercials.
Social Media Handles
The 7-foot tall man is an active person on social media. One can find his 9981 tweets on Twitter and memes on Instagram stickers and emojis. He is marketing almost everything that he can get his hands on. Noone thought that cyborgs would come to us in this form. The form is huge.
I believe everyone should experience the magic of
EDC at least once in their life.@edc_orlando you're next! pic.twitter.com/JioFSIqE75

— DJ Diesel (@djdiesel) November 10, 2021
7 Things you might not know
Let us look at the seven things that many of you might not know about O'Neal. These things would include things such as his investments, hobbies, marketing and fun stuff etc.
1 Shaquille O'Neal Chiropractor Session
He took a chiropractor session that went viral because it was so funny that people were just rolling on the floor and laughing out loud. Here is a short video clip of the session.
2 How to be a wealthy person?
When Shaquille got his first million-dollar trading card contract, he blew through the check-in one day, buying cars and jewellery. Check out his story of him buying a Mercedez for himself. Then went back to the showroom for buying a Mercedez for his father. Later when his mom said where is my car? Then they bought another car all in a single day. Check out the story.
After this incident, a counselling session was arranged for Shaq. In another one of his videos, he describes the difference between a rich person and a wealthy person.
3 Shaq loved Kobe Bryant
When Kobe died on the 26th of January 2020 in a helicopter crash Shaq was devastated. Love blossoms where there is a tussle. Kobe and Shaq were always known for their fights. But no matter how much they fought for the TVs personally, they loved each other and had mutual respect for each other. He acted like a big brother to Kobe. A speech given by him on Kobe's death shows their love and mutual respect.
4 A great Salesman
There is no doubt that Shaquille O'Neal is a great salesman. A look at his social media account tells us that from NFTs to consumer products everything is up for sale. He speaks with confidence and fun, he is also a great storyteller. Therefore people love to listen to him.
Check out this link for more Gifs of Shaquille
5 A policemen
A gay couple was hit by abuses from a man and later that man threw a bottle at the couple. He chased the man and flagged the officer about the incident. Finally, the police gave an honorary Miami Beach police officer post to O'Neal with a $1 annual salary after the incident.
Basketball legend @SHAQ goes by many nicknames, and now added to that list is Deputy Shaq. The big man now works as an auxillary deputy with the #BSO. Sheriff Tony sat down with Shaq and the two talked about the different ways law enforcement works to keep communities safe. pic.twitter.com/H8j2lwUm0B

— Broward Sheriff (@browardsheriff) March 15, 2019
6 The Doctor in Dr Shaquille O'Neal
According to ESPN, he has earned his doctorate from Barry University alongside 1,100 other students during commencement ceremonies. The Miami Herald reports O'Neal got on one knee so the chair of Barry's organizational learning and leadership program could drape a light blue hood around O'Neal's more-than-7-foot frame.
Finally, a basketball player, a doctor and a policeman the many faces of the master blaster "Sha_".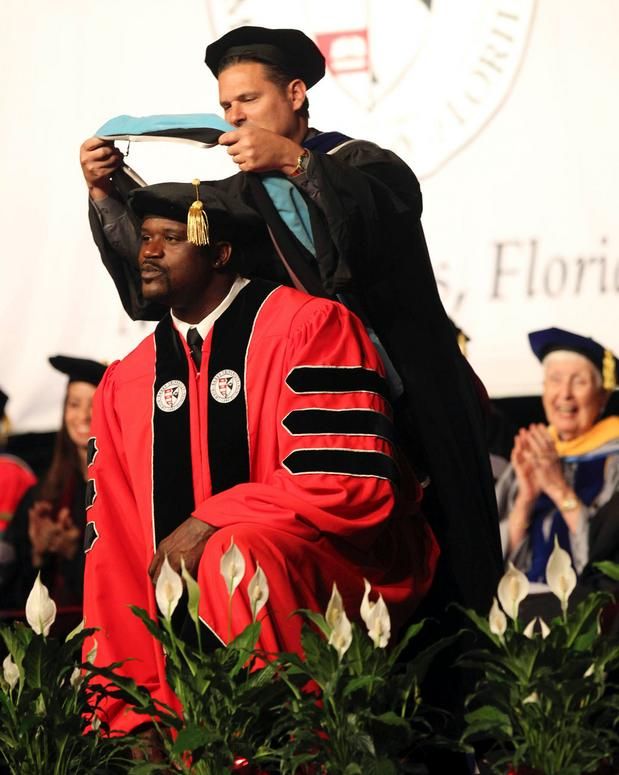 7 An early Investor
Shaquille O'Neal invested in Google before it went public in 2004 on the advice of Ron Conway. "My only regret is that I wish I would have bought more," he told Vanity Fair. Therefore we put up a mention of him on our blog. A person can manage investment even after working or following a passion. The man is big in every sense, living a life king size seems to be his approach. Whatever he thinks he becomes.