A word puzzle game (Wordle) that is generating a buzz among the spell bees of the internet. This game can be played on the site of the New York Times. Every day there is a new puzzle on the site of the New York Times and people have to guess the words. The amount of search volume for this word is so high that on Google Trends the word has given a breakout. Following is an image of the statistics of this insanely viral word game.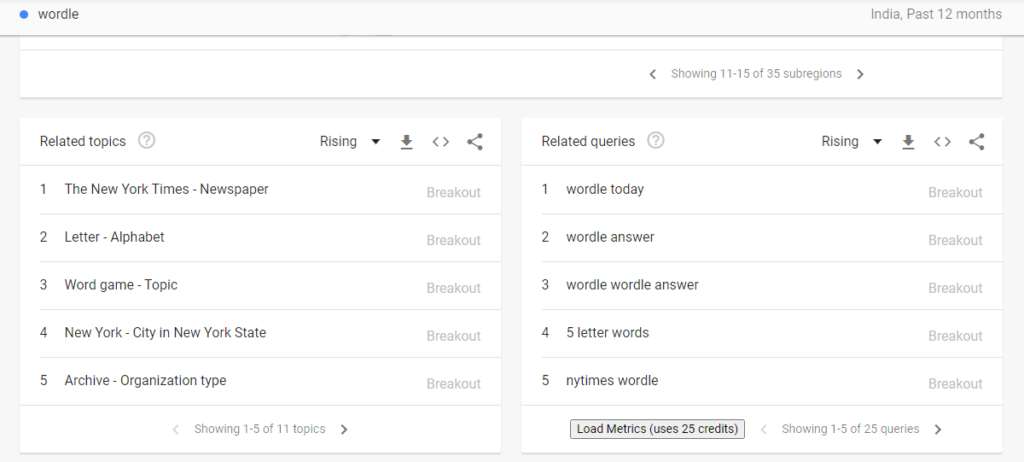 How to play Wordle?
To play this game there are a number of websites where a user can go and solve the puzzle by browsing online or simply going to the New York Times. The original version of the game allows 1 game in 24 hours. Recently NYT has changed the frequency to 2 games in 24 hours. To play this game one can follow the following steps.
Go to the website of NYT
The rules of the games will be shown but you will not be able to understand how to play.
When you start the game you will see empty boxes on the screen. 6 rows & 5 columns.
Guess your first 5 letter word & hit the enter button
Upon hitting the enter button the color of the box will change. Some of the words will show grey color & other words will show yellow color or green color.
The green color indicates that guessed word is at the right position & is present in our 5-letter answer.
The yellow color indicates that the guessed word is part of the answer but the position is not correct.
To find the final answer we only have 6 chances & hence the six rows.
The rules of the game are displayed in a dialog box as shown in the image below. The dialog shows the sample of answers. There are only 6 tries available for each user. However other websites also allow you to play the non-original version with as many games as you want. Below is a list of links where you can play this insane word game.