The Russia-Ukraine crisis has escalated into a full-blown war. But how did the world just after recovering from the shock of the waves of the covid-19 pandemic reach this stage? For this, we will have to trace the timeline from the pages of the history of where did it all go wrong in the first place.
Latest updates on the Russia-Ukraine War . Timeline of events
01-09-2022 till 13-10-2022
The Russia-Ukraine crisis is now taking the form of hybrid warfare where drones, intelligence sharing, traking of movement of each other's infanty & artillery is to the next level. The Russia-Ukraine war is reached to level where both the countries are targetting civilians and strategic infrastructure.
On 8th of October 2022, Kerch bridge connecting Russia to Crimea was partilly damaged by explosion.
On 30 September 2022, Russia's president Vladimir Putin announced the annexation of Ukraine's Donetsk, Luhansk, Kherson and Zaporizhzhia regions in an address to both houses of the Russian parliament
The explosions occurred on Monday Sept. 26, and the same day only two episodes linked the United States to the incident.
On 21 September 2022, Russian President Vladimir Putin announced a "partial mobilization" of military reservists in Russia after facing setbacks in the Russian invasion of Ukraine
15-06-2022 till 24-08- 2022
Russia cuts gas deliveries to Europe through the Nord Stream 1 pipeline to 40 percent of capacity. The EU officially invites Ukraine and Moldova to become candidate countries for EU membership. Russia defaults on its sovereign debt for the first time since the Bolshevik Revolution in 1917, as a 30-day grace period on $100m of interest payments expires.
 Russia and Ukraine sign a UN-brokered agreement allowing the export of Ukrainian grain through the Black Sea. On June 29th at least 50 Ukrainian PoWs are killed when their detention facility is blown up in Olenivka, Donetsk. Russia says Ukraine targeted its own men. Ukraine says Russia blew up its own penal colony "to cover up war crimes".
On 16th of August a Russian ammunition depot goes up in flames. Darya Dugina, daughter of a prominent Russian ultranationalist Alexander Dugin, is killed in a car bomb blast near Moscow
On 24th August Ukraine marks its day of independence from Soviet rule and the six-month anniversary of Russia's full-scale invasion
01-05-2022 till 14-06-2022 Ukraine for the first time limits Russian gas transiting its territory to Europe, cutting by a quarter the flow of gas through one of two major pipelines. On 12th May Finland & on 15th May Sweden announces for NATO memberships.
The European Commission announces to ditch Russian fossil fuels over 5 years. USA declares aid of $40 Billion + HIMARS High Mobility Artillery Rocket Systems with 80 Km Range. The UK announces it will send M270 multiple launch rocket systems with 80km. Offensive and counteroffensive continues between Russia & Ukraines in the conflict zone.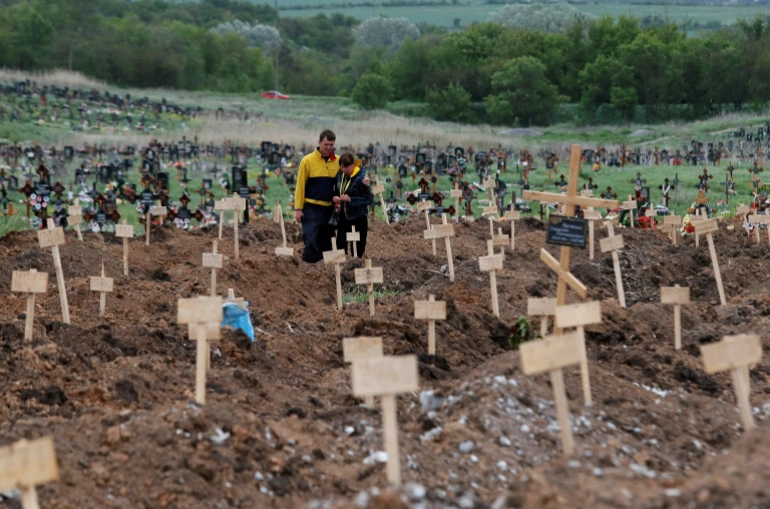 27-03-2022 till 14-04-2022
Zelenskyy tells Russian journalists on a video call that he is willing to consider geopolitical neutrality for Ukraine, and to compromise on the status of the eastern Donbas region, which formed part of the pretext for Russia's invasion. On 29th March Russian and Ukrainian negotiators meet in Istanbul.  An Al Jazeera report reveals that Russia is using proxy groups in Syria to recruit fighters for Ukraine.
Bucha a city north of Kyiv reports mass killings & human rights violations. The EU bans imports of Russian coal, Russian lumber, cement, seafood, and fertilizers. The EU also bans the export to Russia of jet fuel and sensitive technologies and software. Ukraine sinks Russian the Black Sea fleet flagship Moskva, after hitting it with two Neptune missiles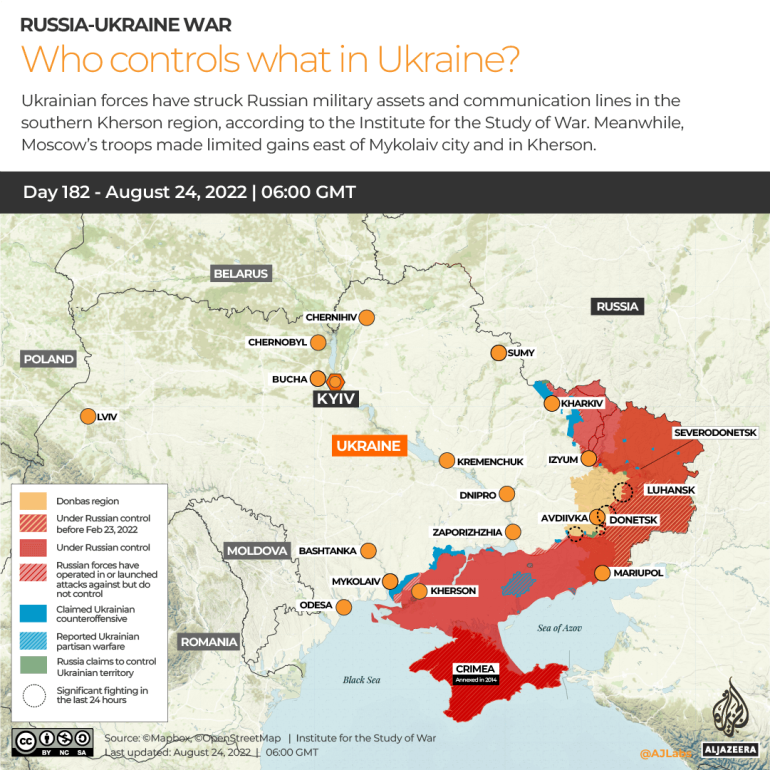 15-03-2022 till 22-03-2022
The major highlight of the Russia-Ukraine crisis is that for the first time Russia demonstrated its hypersonic missile capabilities by using its Kinzhal missile system. The hypersonic missile is capable of carrying a nuclear warhead, but the missile that was used by Russia carried a conventional warhead. Multiple times talk failed between the Russian delegation & Ukrainian delegations.
03-03-2022 & 14-03-2022
There have been allegations, counter allegations by both parties. The invasion has not stopped. Efforts are made to evacuate the cities & humanitarian corridors were created. Biological weapons, Chemical weapons allegations levied by Russia & Nuclear facilities overtaken by Russian could result in a disaster allegation against Russia.
Russia is laying siege to most of the major cities in Ukraine & actively seeking help from Belarus, China & even India. However, the Indian side & the Chinese side so far have taken a neutral stand. The Russian economy is sanctioned by the NATO members for war crimes & not negotiating for a settlement.
Crude oil reaches its highest ever price recorded in the history of $116/barrel 8817 while the conversion rate is 76 Rs per dollar. The devastating impact of all this price rise will be seen in the Indian Economy as India is a net importer – 03-03-2022
Threats, statements & bombing but on the ground, no steps have been taken to de-escalate the situation. The increased amount of disinformation and information warfare tactics are being played out. News channels are reporting events like at anytime Russia is going to drop a nuclear bomb to grab the eyeballs. – 02-03-2022.
C-17 globe master to take off from India for humanitarian assistance and bring back stranded Indian students. PM Modi asks Indian Airforce to join operation Ganga – https://twitter.com/TOIIndiaNews/status/1498564963912515585 – 01-03-2022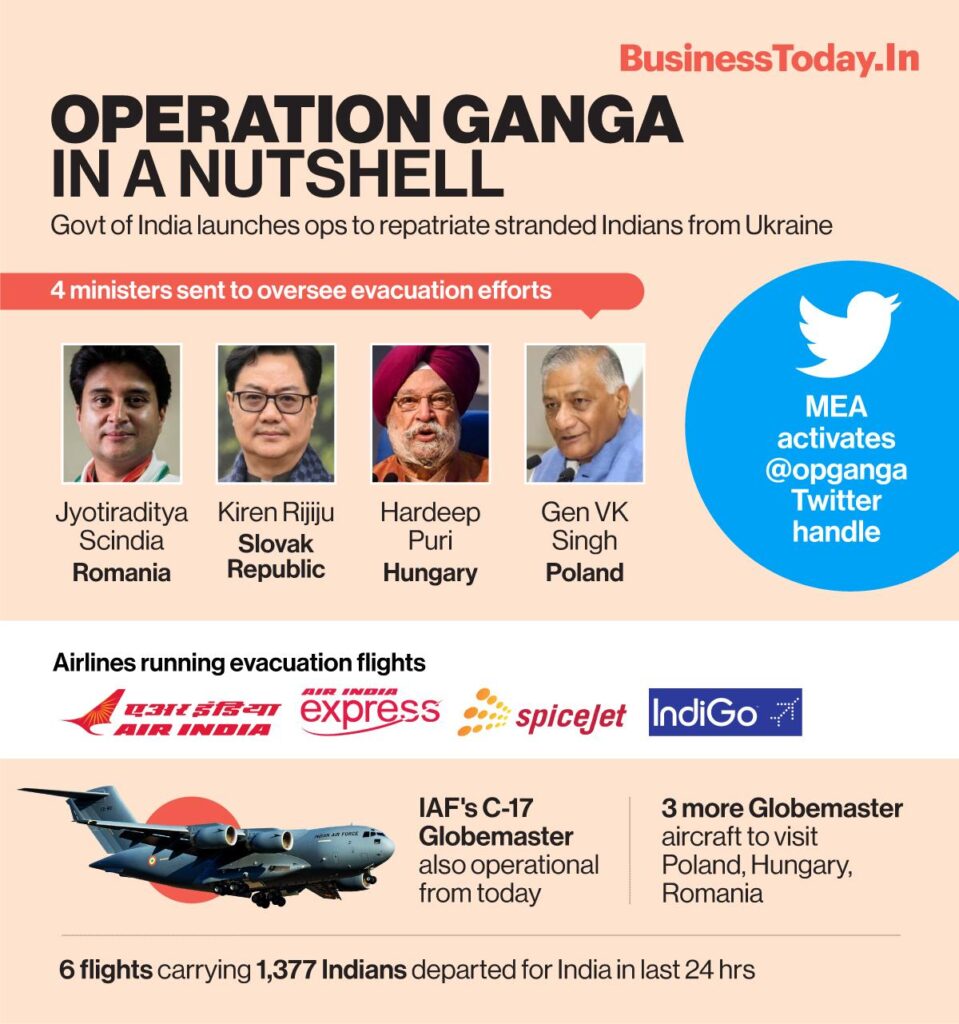 Russia drops a vacuum bomb on Ukraine. Russia-Ukraine crisis intensifies. Ukraine accuses Russia of war crimes – https://twitter.com/SD9Y1/status/1498449781143842818 – 01-03-2022
Kharkiv freedom square hit by a Russian missile, government building destroyed – 01-03-2022
Manhandling of Indian students and racial discrimination of European nations in allowing students of black, and brown color to cross the border to take shelter. – 28-02-2022
Deadlock on the meeting held in Golan Belarus – Russia has three demands & Ukraine has their demands of joining the EU & becoming a NATO ally. Talks failed -28-02-2022
President Putin redies the country to prepare for 50K soldiers' medical emergency & is keeping the nuclear deterrence action force on high alert. It is alleged that the Ukrainian forces are using banned chemical weapons against the Russian forces & fighting with masks on. – 27-02-2022
A place for a meeting between the Ukrainian delegation & the Russian delegation was decided close to the border of Ukraine and Belarus at a place called Golan inside Belarus. Ukraine's President Volodymyr refused to meet the Russian delegation in Minsk. -27-02-2022
Germany, France, Poland, Belgium & other countries will provide aid and ammunition to the Ukrainian forces against Russia. – 27-02-2022
SWIFT Sanctions are activated partially against Russia – Youtube video of swift sanctions on 27-02-2022 most of the European countries closed their airspace for Russian airplanes.
Kharkiv and Kyiv fighting resumes & a series of misinformation from both sides.
Fighting continues in Kyiv 14:11 IST 26-02-2022. Ukrainian forces are resisting the Russian invasion.
A viral video of a missile hitting a residential building on Twitter https://twitter.com/BNONews/status/1497469082018455555
Both sides have claimed casualties both military forces & civilian populations lost lives. The actual number will never be known. Officially for Ukraine are 137 deaths & 300 injured for the Russian Federation the numbers will be equal.
The voting on the draft resolution of the UN is vetoed by Russia. China, India & UAE abstained from voting.
NATO has activated its NATO Response Force, marking the first time the alliance has activated the potentially 40,000-person force for "a deterrence and defense" – https://twitter.com/ABC/status/1497367304304214021
Historical Aspect of the Russia-Ukraine Crisis
Well, we can go on writing about it but the video explains it better. Though the video is missing one important aspect of the west's (the USA, UK-led NATO) betrayal of Russia.
The fact that the USA, after the fall of the Soviet Union or USSR assured Russia that it would not expand NATO eastwards toward the borders of Russia for its security concerns. However, the image below shows what the USA said and what they did.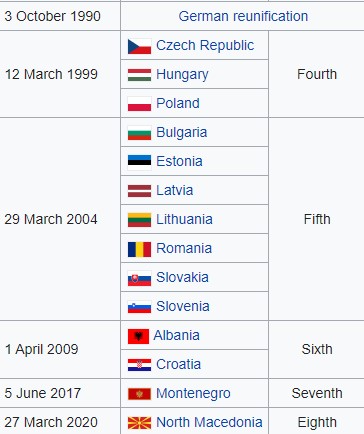 Russia-Ukraine crisis how did it unfold?
The power to project an image can lead you to permanently form a myopic image on your eye lens. This can be said with reference to the Russian President, who in the name of security is opting for the display of power not considering the fact that there will be an insurmountable amount of suffering and misery for the common people. War did no good to anyone, Putin certainly is not an exception.
2014 Ukraine took the Russian Bait as projected by the western media. The EU tried to strike a trade deal with Ukraine but the Russians favoring President Yanukovich went with a 15 Billion Dollar bailout of Ukraine, which people felt that their president sold them to Russia.
Following a series of events Yanukovych fled to Russia as his government was toppled by the protests and his life was under threat. Many Russian-speaking people living in Ukraine felt marginalized & underrepresented politically.
This did not go well from the Russian perspective as Ukrainians were ideologically drifting away from the Russian culture because Russian & Ukrainian languages are similar, and people speak both languages. Many Russians live in Ukraine.
Coupled with this incident EU & NATO extended membership to Ukraine and the neighboring countries that were previously under the influence of the former USSR. Russia saw this as a threat in its own backyard. The border between Russia and Ukraine is 2000 Km long and is porous.
NATO is a military organization and not a cultural organization and from 1945 to 1991 it worked against the USSR by stationing troops and military equipment including Nuclear Missiles in the member countries.
The Seige of Kyiv has begun at 17:58 IST on 25-02-2022 Russia Ukraine crisis
Resident Viktor Berbash, 58, told AFP, "I saw an armored vehicle and there was the automatic fire. And here this car, with probably an anti-aircraft gun on it, was already here." He watched as the civilian in a car was crushed by a tank — an intentional move, he said — unsure if the driver survived or not.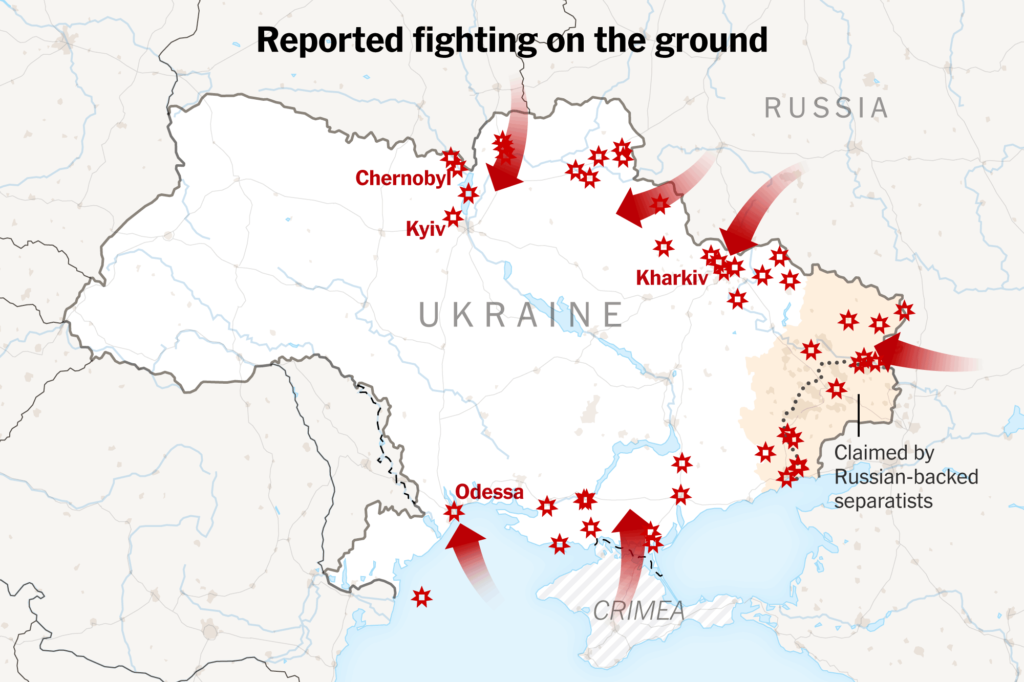 "Two armored vehicles were driving along the road, and the second of them deliberately drove into the oncoming lane," he said. "It was not by chance, it was for fun, there was no need for this. And it just ran into this car. Stopped, reversed over it again, and drove on." Source – Times of India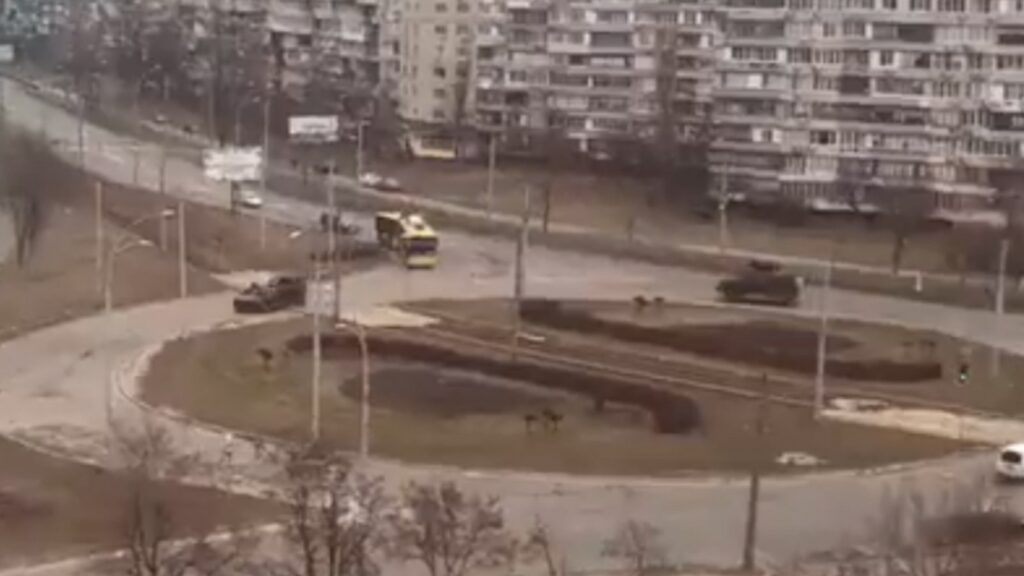 For Indian Readers
If you're reading this blog from India then you can help us. Open the Demat account for trading strategy and investing using the link below 👇👇 and give us a chance to serve you better. Lowest Brokerage highest support 🙏🙏.