The word "iconic textiles" is rightly chosen to represent these gems of Indian heritage in textiles, particularly handmade crafts. The documentation of these handmade textiles is important to preserve the process, and people associated with the craft and to know the intricacies of these beautiful masterpieces of Indian art. UNESCO launches a list of 50 iconic Indian heritage textiles. UNESCO in its report also highlighted – "One of the major challenges to the safeguarding of Intangible Cultural Heritage in South Asia is the lack of proper inventory and documentation."
Iconic Textiles from North India
In the North India states like Haryana, Uttar Pradesh, Rajasthan, Himachal Pradesh & Ladakh feature on the list
Khes weaving, Panipat, Haryana
Tapestry weaving, Panipat, Haryana
Chamba Rumal, Chamba Valley, Himachal Pradesh
Thigma or Wool tie-dye, Ladakh
Danka embroidery, Udaipur, Rajasthan
Split-ply braid weaving, Rajasthan
Awadha Jamdani, Varanasi, Uttar Pradesh
Baluchari weaving, Varanasi, Uttar Pradesh
Gyasar weaving, Varanasi, Uttar Pradesh
Badla embroidery, Lucknow, Uttar Pradesh
Hand block printing, Farrukhabad, Uttar Pradesh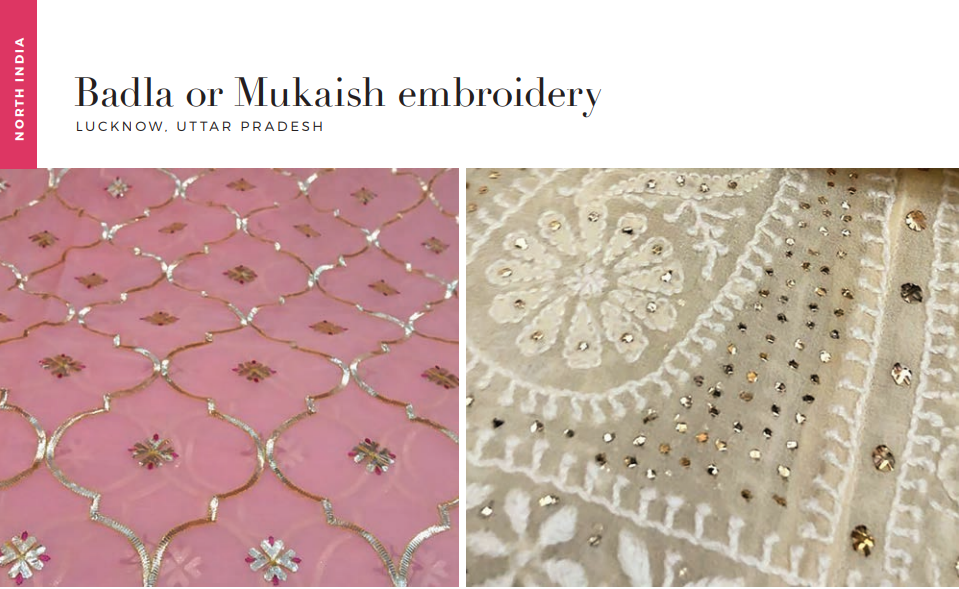 Iconic Textiles from West India
In the western part of India states like Goa, Gujarat, Madhya Pradesh, and Maharashtra are included.
Kunbi weaving, Goa
Ashavali sari weaving, Ahmedabad, Gujarat
Kusti weaving, Navsari, and Bharuch, Gujarat
Mashru weaving, Gujarat
Mata-ni-Pachedi, Ahmedabad, Gujarat
Patola weaving, Patan, Gujarat
Rogan textile painting, Nirona, Gujarat
Sujani weaving, Bharuch, Gujarat
Tangaliya weaving, Gujarat
Nandana hand-block printing, Jawad, Madhya Pradesh
Himroo weaving, Aurangabad, Maharashtra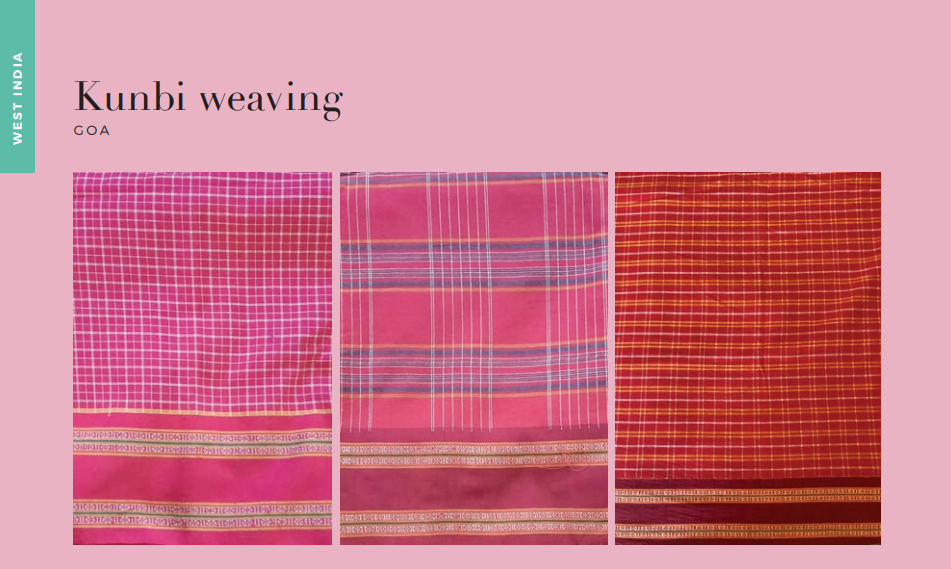 Iconic Textiles from South India
Textiles from Andhra Pradesh, Telangana, Tamil Nadu, Karnataka, and Kerala.
Himroo weaving, Hyderabad, Andhra Pradesh
Siddipet Gollabama weaving, Andhra Pradesh
Guledgudd Khana, Guledgudda, Karnataka
Ilkal weaving, Bagalkot, Karnataka
Lambadi or Banjara embroidery, Sandur, Bellary district, Karnataka
Molakalmuru silk weaving, Chitradurga, Karnataka
Ayurvedic textiles, Balaramapuram, Kerala
Sikalnayakanpet Kalamkari, Thanjavur, Tamil Nadu
Sungadi/ Chungadi, Madurai, Tamil Nadu
Toda embroidery, Nilgiris, Tamil Nadu
Gongadi sheep wool blankets, Telangana
Iconic Textiles from East India
In the eastern division, we have Bihar, West Bengal & Odisha
Bavanbutti weaving, Nalanda, Bihar
Kheta embroidery, Kishanganj, Bihar
Bandha tie-dye weaving, Sambalpur, Odisha
Berhampur Pata or Phoda Kumbha, Odisha
Dhalapathar Parda, Khorda, Odisha
Dongaria Kondh textiles, Kandhmal, Odisha
Kenduli Pata calligraphic weaving, Odisha
Fragrant textiles, Balaposh, West Bengal
Garad-Korial weaving, Murshidabad, West Bengal
Satgaon quilts, West Bengal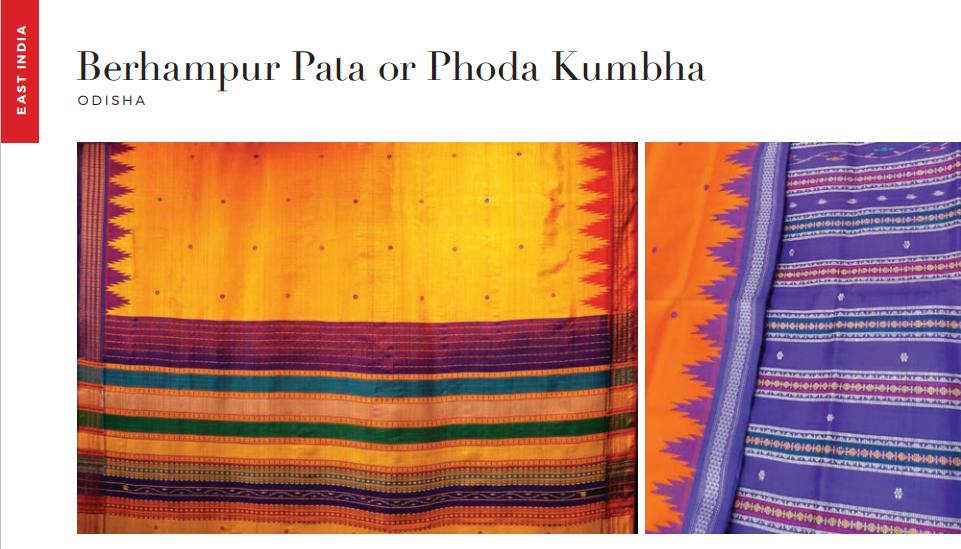 Iconic Textiles from North East India
From the northeastern region of India, we have Manipur, Sikkim & Tripura that made into the UNESCO's list
Lasing Phee, Cachar, Manipur
Saphee Lanphee, Manipur
Lepcha weaving, Sikkim
Risha textile weaving, Tripura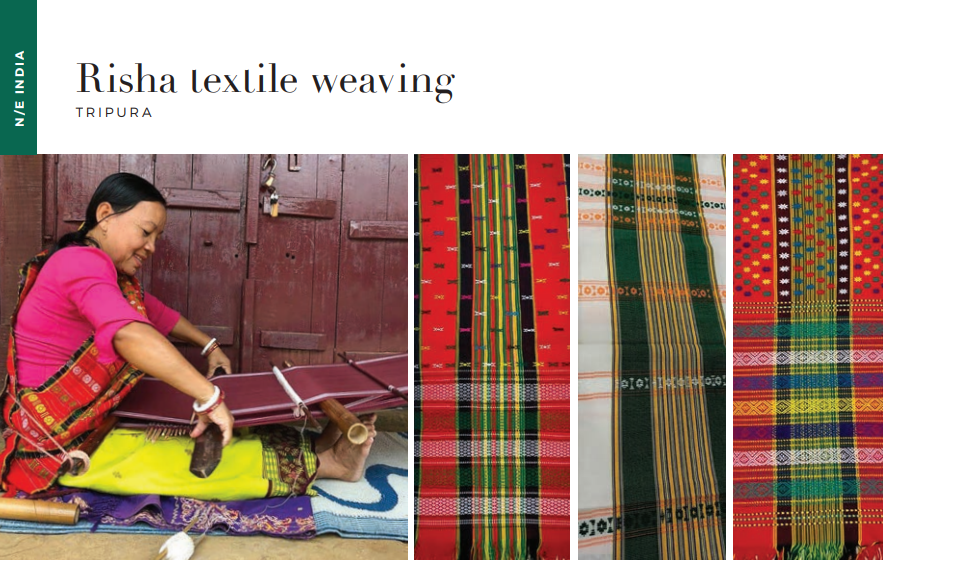 Shoutout
If you're a finance enthusiast and would want to open a Demat account for trading and investing then use the link below 👇👇 and give us a chance to serve you better. Lowest Brokerage highest support 🙏🙏. These links are for Indian readers specifically. If you're reading this post from outside India, there are other ways to support us, like sharing the content or giving us a reach, or mentioning us, Happy reading, and keep lrnin.