UP Election 2022 is going to happen in the month of February 2022 and will happen in 7 phases it will continue till March 2022. This is the most awaited election of the country. The exact dates are not out yet. But the heat is on in terms of debates and speeches. Red, Green, White and Saffron are all the colours that can be seen in the season of elections. At times claims are made, at times statements, the public is mesmerised. Here is a video of all the action till 04th of January 2022
UP Election 2022 Seats
There are 403 seats in the state of Uttar Pradesh for the lower state assembly. There are 80 seats in the Lok Sabha out of 543, earlier this number stood at 545 but after the debate, no Anglo Indians are nominated by the President and hence the number of 545 is now reduced to 543. Uttar Pradesh is a decisive state when it comes to elections.
State Assembly seats in UP = 403
Lok Sabha Seats in UP = 80
Total Lok Sabha Seats in India = 543
UP Election 2022 Parties
The prominent parties that we can hear every day in the news are the BJP – "Bhartiya Janta Party", SP – "Samajwadi Party", INC – "Indian National Congress". However, there are many parties that are going to participate in the elections. This can be seen in the image shown below. The image is taken from wikipedia.org.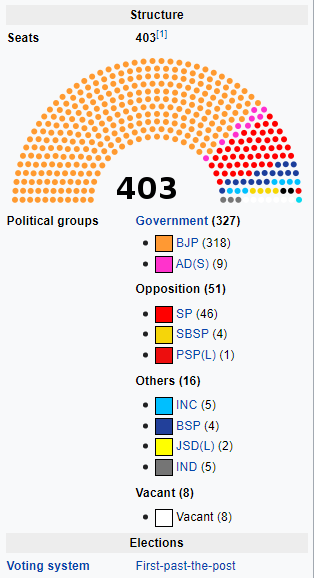 For UP election 2022 Supporters
Open the Demat account for trading strategy and investing using the link below 👇👇 and give us a chance to serve you better. Lowest Brokerage highest support 🙏🙏. These links are for Indian readers.