Who is Seema Haider? Seema Haider, as she claims to be, hails from Pakistan. She fell in love with Sachin. Sachin is a resident of Uttar Pradesh. She arrived in India without any documents or visa, thereby meaning she is illegally residing in India. She also brought her four children with her from Pakistan. All five guests are living in Greater Noida with her husband's (Sachin's) family.
Seema Haider Story
Seema tells a reporter of OneIndia that she had a friend name Noori or Nuri who in her childhood used to wear a pendant of Kali mata on her neck. Noori was a Hindu girl and Seema's curiosity towards the pendant got her inclination towards the Hindu religion. Seema met Sachin while playing the popular game PUBG. During the lockdown in India, their friendship blossomed into a bonhomie and ultimately their love story. Seema recalls that at times Sachin via video call used to show his house, how their family used to live together celebrate Diwali & played Holi. She became attached to Sachin after all those interactions.
Seema Haider's Journey
To enter India Seema first tried through the direct route but she did not get the visa. She then went to Nepal and entered India via the land route. She candidly laughed at the dialogue in Gadar Movie and said "Seema ko agar visa nahi milega to kya Seema India nahi aaegi." original version is "Tara ko visa nahi milega to kya Tara Pakistan nahi jaega.".
The route taken was Pakistan-> Nepal-> India. She made News headlines when BBC & other big publications went on to interview her. Sachin met with Seema in Nepal where they both got married on 13th April in 2023. Seema Haider speaks fluent Hindi which she learned while watching the famous TV Show Tenalirama, Bollywood movies, and talking to Sachin.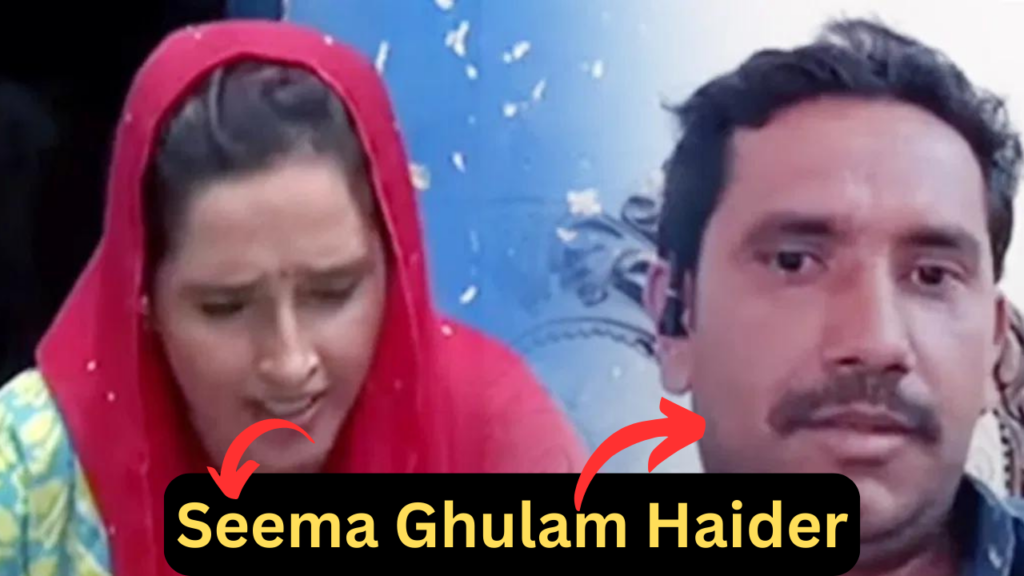 Seema's First Husband Ghulam Haider Jakhrani
Seema talks about her first husband with whom she has 4 children. Seema's husband lives in Saudi Arabia and has been residing there for the past 2 years. Seema tells the reporter that her husband's family is a little different and she loves Sachin and his family more. Seema didn't have a mother, she lost her in her childhood. After marriage also she didn't live more than 2 months with her first husband, she claims she needed a family and found one.
Seema's first husband Ghulam Haider has released a video from Saudi Arabia and appealed to PM Narendra Modi that his wife should be sent back to Pakistan. Seema says that her husband is just portraying to be a good man and nothing more. She says she doesn't want to go to Pakistan. She says people will kill me by throwing stones at her implying a public execution.
Seema Haider Family
In a recent interview, Seema tells a news reporter that her brother works in the Pakistan Army. She has 2 sisters, 4 children, and 1 ex-husband to whom she is legally still married, her father is no more with her, and her mother departed in her childhood. She says that she is already getting death threats from across the border in Pakistan. She pleads to the government to not send her to Pakistan. She tells that she has nothing to lose now. Living in Pakistan was like being dead. She only had one life and didn't want to have any regret.